This is one of the recipes we have made at the cooking school, it is a big hit. I am surprised at the number of people who don't know what it is!!! It is nice to teach people a new recipe and a new experience.
Below you will find the details to make Honeycomb, it can be used for a garnish for your favourite desserts or mixed into ice cream to make a fantastic dessert on its own. Once you have tried it, it will be a firm favourite of yours. Care is needed with recipe as the sugar syrup is very hot and bubbles over like lava…..
Honeycomb
Ingredients
butter, for greasing
200g caster sugar
5 tbsp golden syrup
2 tsp bicarbonate of soda
Grease a 20cm square tin with the butter, and place in a larger oven dish, this will ensure if the honeycomb bubbles up over the tin, it will not spill over on to your cooker or floor, remember this is HOT sugar you are dealing with here and should be treated with extreme care
Mix the caster sugar and syrup in a deep saucepan and stir over a gentle heat until the sugar has melted. Try not to let the mixture bubble until the sugar grains have disappeared.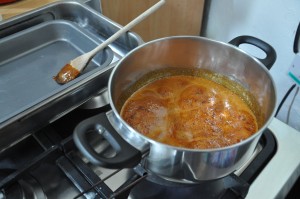 Once completely melted, turn up the heat a little and simmer until you have a amber coloured caramel (this won't take long).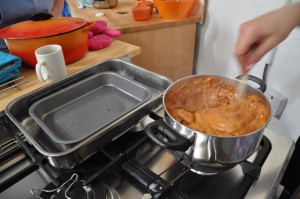 Then as quickly as you can turn off the heat, tip in the bicarbonate and beat in with a wooden spoon until it has all disappeared and the mixture is foaming.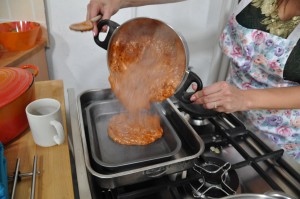 Scrape into the tin immediately but be careful as the mixture will be very hot.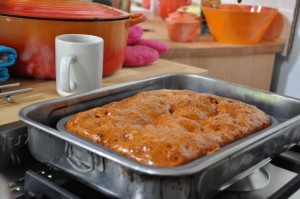 The mixture will continue bubbling in the tin, simply leave it and in about 1/1.5 hrs the honeycomb will be hard and ready to crumble or snap into chunks.
Note: If your honeycomb appears to be 'sticky' place in the freezer until needed. Honeycomb is affected by humidity and therefore becomes sticky and melts in high humidity.