In Scotland we have a wonderful history of baking fantastic shortbread, they are light and buttery and very more..ish…. So you have been warned Scottish shortbread is a wonderful treat and quick and easy to make.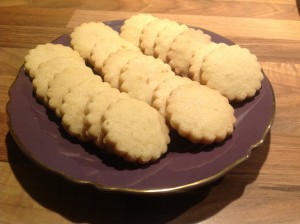 Ingredients
185 g Plain Flour
120 g softened salted butter
65 g soft light brown sugar 1 g salt (only used if using unsalted butter)
5 g of white caster sugar (for sprinkling on top of the shortbread)
Heat the oven to 190 degrees.
Take a large bowl and add the flour and softened butter, rub the flour and butter together until you have a breadcrumb texture. Add the sugar and mix well together. You will have a soft dough. (Note: be gentle with the mixture, if you mix/kneed too much it will result in a tough biscuit)
Flour the counter and pat the dough out to 3 mm (approx), at this stage run a rolling pin across the top of the dough to give a finished look.
Choose a cutter size and shape for your shortbread and cut the biscuits and place on a baking sheet covered with grease proof paper, leave a small space between each biscuit, the shortbread will only spread a little. Take any cuttings and bring back together and continue until you have used all the dough. Sprinkle the top of the shortbread with a little caster sugar.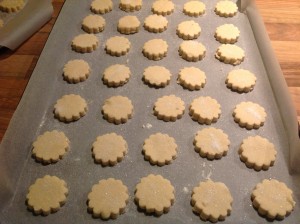 Chill the shortbread for 10-15 mins to allow the butter to firm up again.
Put the shortbread in the oven, check on them at 5 min intervals to ensure they don't brown too quickly, you are looking for a light brown finish.
Remove the Shortbread from the oven and leave to cool for 5 mins before serving.